As in prior studies, stress nuclear scans were performed before and after EECP, to document objectively that an improvement in blood flow had occurred. A pre-EECP cardiac catheterization was also carried out; the patients were classified as having one, two, or three vessel coronary artery disease, depending on how many arteries were blocked. The point of the study was to determine if the number of vessels blocked could predict which patients would improve the most with EECP. .

Dr. Lawson's findings are presented in both graphic and table form below. Before looking at this information, please take a moment to think this over and predict what Dr. Lawson found. Remember that EECP works by recruiting and then enlarging collaterals from a good artery to a blocked artery

EFFECT OF EECP ON NUCLEAR STRESS SCAN ABNORMALITIES

# Blocked Vessels

Unimproved

Less Severe

Normalized

Improved

One

5%

21%

74%

95%

Two

10%

32%

58%

90%

Three

59%

8%

33%

41%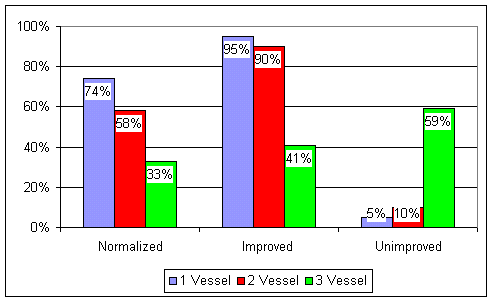 You were right. When only one artery is blocked, we have two good arteries to grow collaterals from, allowing us to "surround" the blocked artery with an exuberant growth of collateral vessels. A 95% scan improvement rate makes sense. These are the patients who note a reduction in angina during their second week of treatment. Conversely, when all three arteries are blocked, we can grow collaterals only from the diseased vessels themselves, proximal to their point of obstruction. This gives us fewer potential collaterals to work with, a less efficient ECP, and less complete revascularization.
Keep in mind that while the nuclear scan improved in only 41% of the patients with three vessel disease, all of these patients experienced a reduction in angina. Also, a 41% scan improvement rate is better than no improvement at all in a patient with persistent angina who cannot be treated with angioplasty or bypass.

This study tells us that patients with one or two vessel blockage, who are otherwise technically good candidates for ECP, typically do well with ECP. Patients with three vessel disease may improve, but here we expect less. In this patient population, we might extend their course of ECP to 45 or 50 hours, to get the most we can out of this technique. Of the first 50 patients to complete a full course of EECP at our center, one man did not experience a reduction in angina. Two others improved but died of cardiovascular disease later on. All three had refractory symptoms due to three vessel coronary disease, and were undergoing ECP only because no other treatment options were available.